Gov. Parson to call 1,000 troops to end violence in Missouri | 'They're not protesters. They're criminals'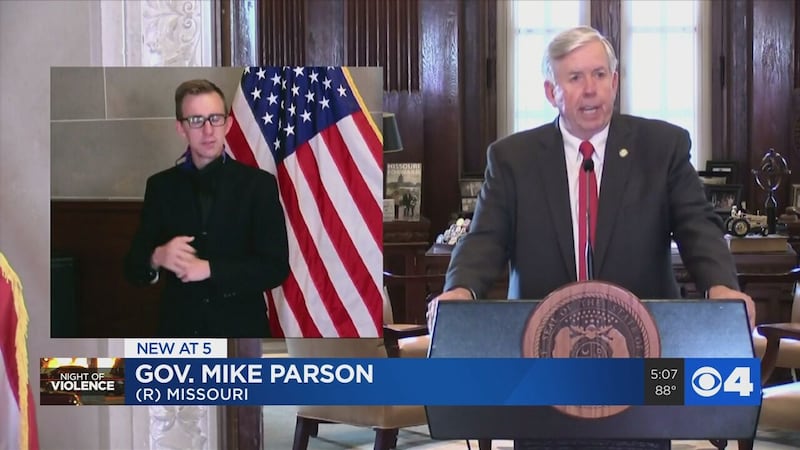 Updated: Jun. 1, 2020 at 12:37 PM CDT
ST. LOUIS, Mo. (KMOV) - Mike Parson said he is willing to do everything in his power as governor to end the civil unrest and violence in St. Louis and other parts of Missouri, saying the destruction of property, shooting of officers and the killing of a retired captain are all unacceptable.
Parson took advantage of his daily COVID-19 briefing on Tuesday to address the violence that has spread across St. Louis and other parts of the state saying "We have to change our ways of this society."
His remarks come after violent protesters set 14 different buildings on fire around St. Louis, shot at four police officers and shot and killed a retired police captain in the overnight hours.
"George Floyd should not have died the way he died. It wasn't acceptable what the officers have done and they need to be held accountable. Nor should that retired police officer that died last night," Parson said. "The people that shot him should be held accountable. And no, they're not protesters. They're criminals and they're thugs and they need to be held accountable and hopefully they get hunt down, the people who have done that last night because it has nothing to do with protesting, has nothing to do with George Floyd. It has to do with criminal behavior."
Parson said he was in St. Louis earlier in the day Tuesday to meet with local officials and police members to try and find a solution to the behavior in Missouri.
The governor activated the National Guard on Sunday, one day after agitators attacked the Ferguson Police Department and threw rocks and fireworks at officers and used baseball bats to smash the department's windows. Violent protesters attacked several other businesses that night.
Agitators upped their violence on Sunday and Monday and several officers were injured, including four shot in the early hours on Tuesday. A retired Moline Acres police captain was shot and killed outside of a looted north St. Louis City pawn shop.
"It has to stop," Parson said "There has to be a difference between protesters being legally out there protesting and criminals disguised under the umbrella of a protest. It has got to stop ... I called up the National Guard and we're going to strengthen the Nation Guard," Parson said. "We are not going to have police officers, we're not going to have citizens of Missouri being shot in the streets in the state."
Parson said he will use all the power he has as governor to stop the violence. He said will use the National Guard and troopers from the Missouri Stat Highway Patrol as needed.
"I will call them all out to stop the violence in the state," Parson said. "We'll call up over 1,000 troops."
The National Guard has already stepped in and helped law enforcement agencies in the St. Louis region, Jefferson City and Kansas City.
Copyright 2022 KMOV. All rights reserved.