Remembering Pujols: Five memorable Albert Pujols moments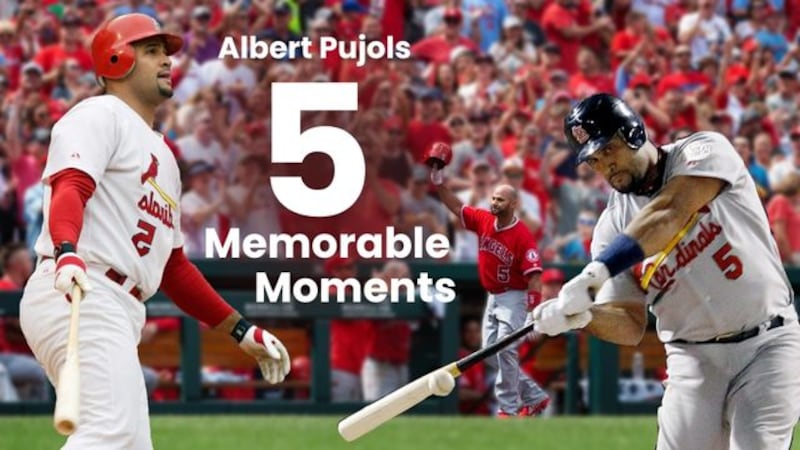 Published: Dec. 24, 2022 at 7:40 AM CST
ST. LOUIS, Mo. (KMOV) - As we prepare to transition into 2023, many Cards fans and baseball fans around the world will have to adjust to a league without Albert Pujols.
Pujols, originally drafted by St. Louis in 1999, played in the MLB for 22 seasons. He spent 11 of those as a Cardinal, including his final season this past year. He finished his career with a total of 703 home runs and more than 2,000 RBIs.
Albert Pujols is one of the greatest players to ever step onto a baseball diamond.
Here are five of the most memorable Pujols moments:
The Comeback: July 20, 2004
An intense matchup with longtime rivals, the Chicago Cubs, saw the Cardinals fall behind 7-1 early in the game. The game would end in an 11-8 victory for the Cardinals after Pujols went 5-for-5 with four runs, five RBIs and three homers, capped by a two-run tiebreaker in the ninth. This was the best regular season game of his career and ended the NL Central race for the rest of the season.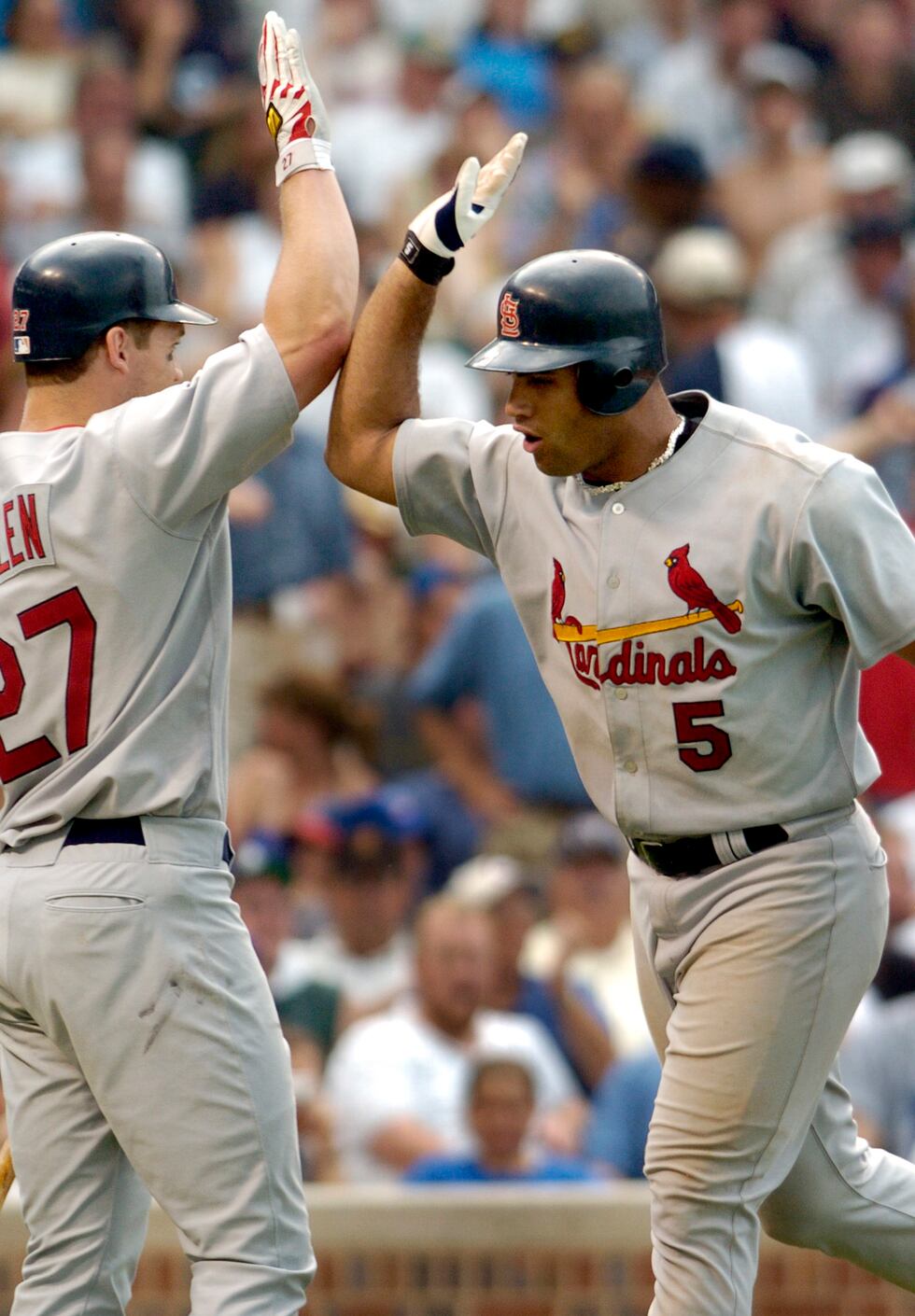 Train Tracks Homer: October 17, 2005
Down to their final out of the season in Game 5 of the 2005 National League Championship Series, the Cardinals were losing 4-2 against a dangerous closer in Brad Lidge. Pujols got into the batter's box with several runners on base and their season on the line. What followed would define his career for years to come. Pujols launched a massive home run into the train tracks in left field of Minute Maid Park, ending the Houston Astros' chances of advancing to a World Series that night. The series went back to old Busch Stadium for Game 5 and the Astros were able to secure the victory, but Pujols' effort in the Cardinals' comeback will always be remembered.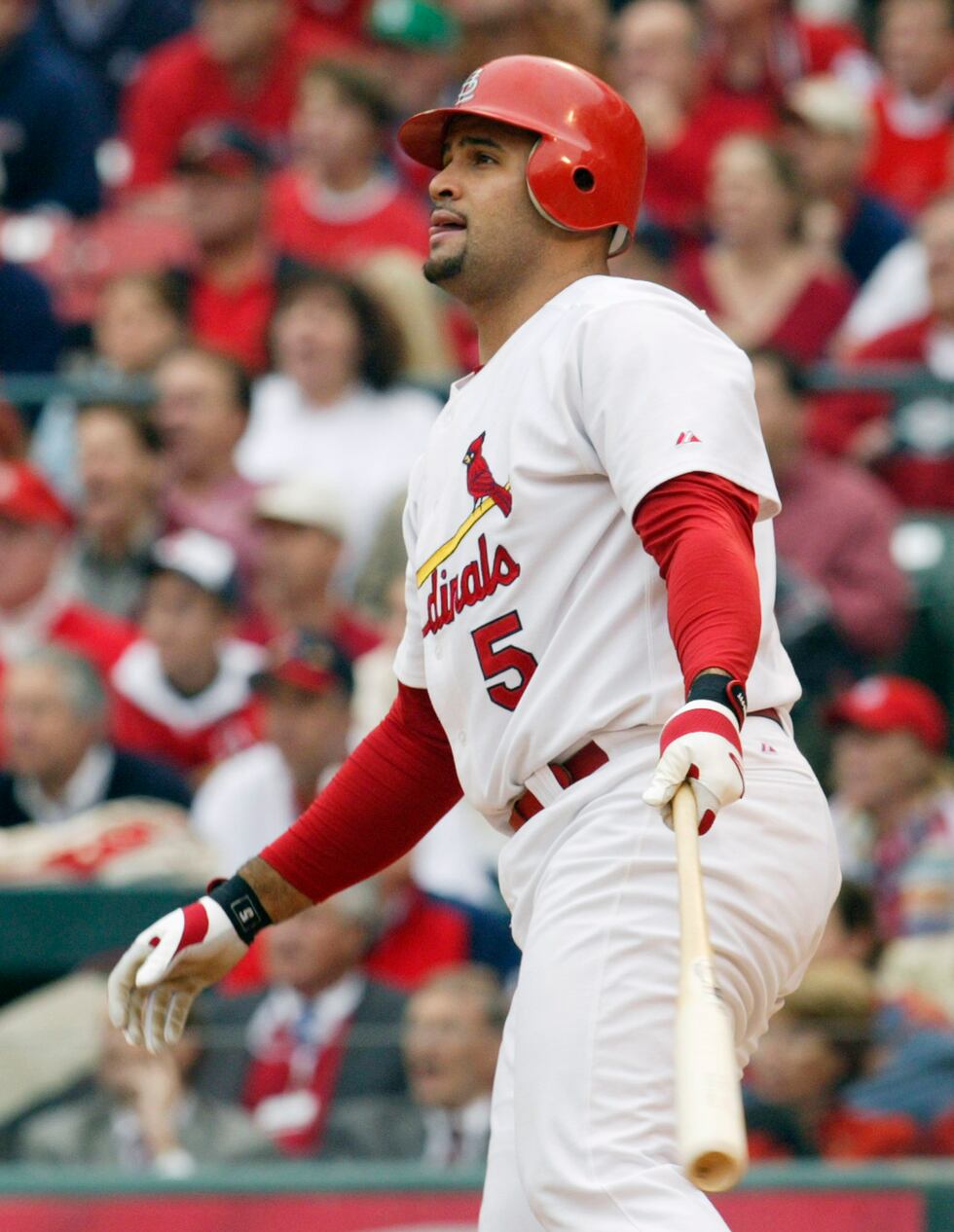 World Series Trifecta: October 22, 2011
A lot of the attention in the 2011 World Series went toward Game 6, but Game 3 saw an offensive showing like no other. Pujols went 5-for-6 with four runs, six RBIs and three home runs. The Cardinals defeated the Texas Rangers 16-7. And with his third home run that game, Pujols joined Babe Ruth and Reggie Jackson as the only players in history to hit three homers in a World Series game.
Welcome Home: June 21, 2019
After leaving the Cardinals, Pujols' Angels did not travel to St. Louis in his first seven seasons in Los Angeles. But in 2019, it was a long-awaited homecoming for both Pujols and Cardinals nation. Not only did St. Louis pay tribute to its former star, but Cardinals fans showered him with love. During his first at-bat, Pujols shared a heart-warming moment with catcher Yadier Molina as fans roared throughout Busch Stadium. And the following day, he ripped a homer into the left field bullpen, prompting Cardinals fans to demand a curtain call from an opponent's player.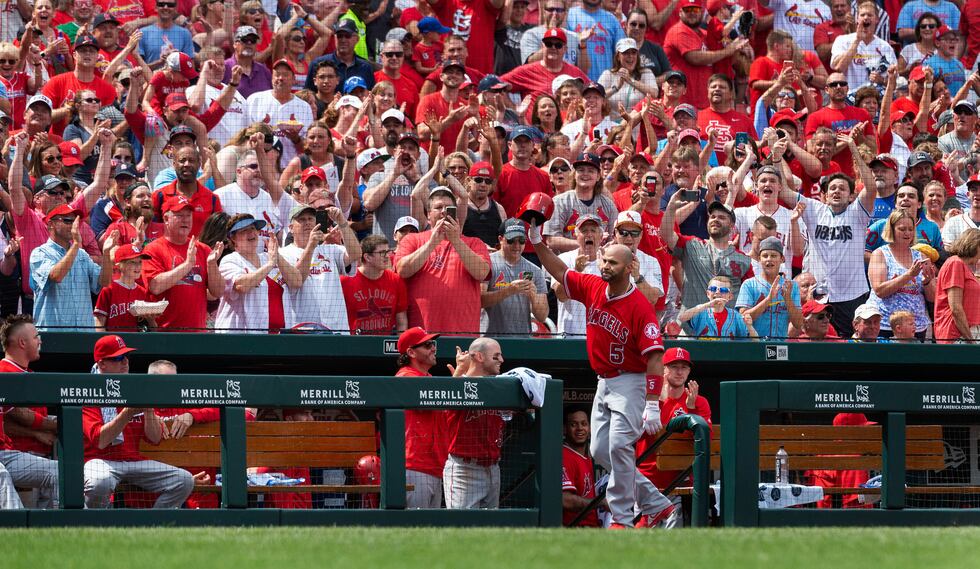 699 and 700: September 23, 2022
Undoubtedly one of the major themes of the 2022 season was Pujols' race to reach 700 home runs. The entire world of baseball watched and waited throughout the year as he inched closer and closer. And on the night of September 23, their wait came to an end. Pujols launched 699 and 700 in consecutive innings, joining one of the sport's most exclusive clubs and adding another priceless memory to a remarkable MLB career.
Copyright 2022 KMOV. All rights reserved.