Thomas scores in OT, Blues rally past Flames 4-3
Robert Thomas' goal 28 seconds into overtime capped a St. Louis comeback as the Blues beat the Calgary Flames 4-3 on Tuesday night.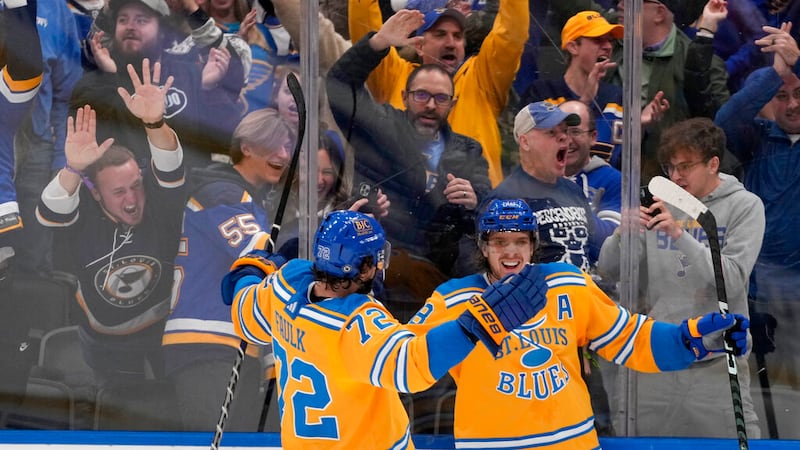 Published: Jan. 11, 2023 at 8:56 AM CST
ST. LOUIS (AP) — Robert Thomas made the most of his second chance
Thomas' goal 28 seconds into overtime capped a St. Louis comeback as the Blues beat the Calgary Flames 4-3 on Tuesday night.
Thomas' game-winner came on a one-timer on an odd man rush with Jordan Kyrou.
"He (Kyrou) made a great play," Thomas said. "The D-man came over sliding at him quick and he had to make it quick, get it over the stick. It's a great play by him and yeah, I just had to get it upstairs."
Thomas appeared to give the Blues the lead just over five minutes in the third period, but the goal was waved off for an offside on Kyrou after a Calgary challenge.
"Obviously, it's unfortunate, but you just gotta keep playing and on to the next one, right?" Kyrou said.
Kyrou had a goal and two assists, Pavel Buchnevich had a goal and an assist, and Nikita Alexandrov also scored for the Blues, who won their fourth in their last five games. Jordan Binnington made 28 saves.
St. Louis, which kicked off a season-long seven game homestand, improved to 8-8-2 this season at Enterprise Center.
Andrew Mangiapane had a goal and an assist for the Flames to record his first multipoint game since Dec. 10. He had scored just four points in his previous 13 games.
Milan Lucic and Mikael Backlund also scored for the Flames, who lost their third game in their last four. Jacob Markstrom made 23 saves.
"It obviously sucks," Flames center Nazem Kadri said. "That's not the way we wanted to end the game. To be quite honest, I think we played a pretty solid road game. Had a lapse of five minutes, you know the good players don't need many chances to score and they made us pay."
The Blues erased a 3-1 deficit with two goals in a 28 second span early in the third. Alexandrov got the rally started by banging home a rebound off a Steven Santini shot at the 2:20 mark and Kyrou followed with a wrister from the high slot.
"We just skated and had more energy," Blues coach Craig Berube said of the third period. "We moved, supported the puck more and got the puck out. And attacked and got into the offensive zone more. Put more pucks to the net. But we just had more energy."
Thomas said the Alexandrov goal was the catalyst for the comeback.
"We needed someone to step up and Niki did it tonight," Thomas said. "That's a huge goal, him and Sants made a great play there and that really brought life to the crowd and brought life to the bench and got us going. Huge credit to them."
Buchnevich's power-play goal gave the Blues the lead at the 3:50 mark of the first period. Buchnevich's shot deflected off the stick of Flames defenseman Chris Tanev.
Lucic evened the game with his fourth goal of the season with 6:16 left in the first, tipping in a perfect feed from Kadri.
Backlund gave the Flames a 2-1 lead less than two minutes later, tipping in a Nikita Zadorov shot.
Mangiapane added to the Calgary lead 62 seconds into the second period, snapping an 11-game goal scoring drought.
"It's tough, right," Mangiapane said of blowing the lead. "I thought we were playing a decent game kind of up to that point, but again, we kind of let it slip and we got to learn from it, and you know, come back stronger against these guys the next game."
UNCEREMONIOUS RETURN
Kadri made his first return to St. Louis since last season's memorable playoff series as a member of the Colorado Avalanche. Kadri's collision with Binnington in Game 3 ended Binnington's season and Kadri went on to score four goals and two assists in St. Louis, including a hat trick in Game 4, as the Avalanche eliminated the Blues in six games.
He was booed whenever he touched the puck.
"It's all good," Kadri said. "I mean I love seeing the fans engaged in the game and, you know, that's part of professional sports."
NOTES: The Blues placed D Robert Bortuzzo (lower body) on injured reserve and recalled D Dmitri Samorukov from Springfield, their AHL affiliate, on Monday.
UP NEXT
The Blues and the Flames will square off again at Enterprise Center on Thursday.
___
More AP NHL: https://apnews.com/hub/nhl and https://twitter.com/AP_Sports