Pettersson's OT goal lifts Canucks to 3-2 win over Blues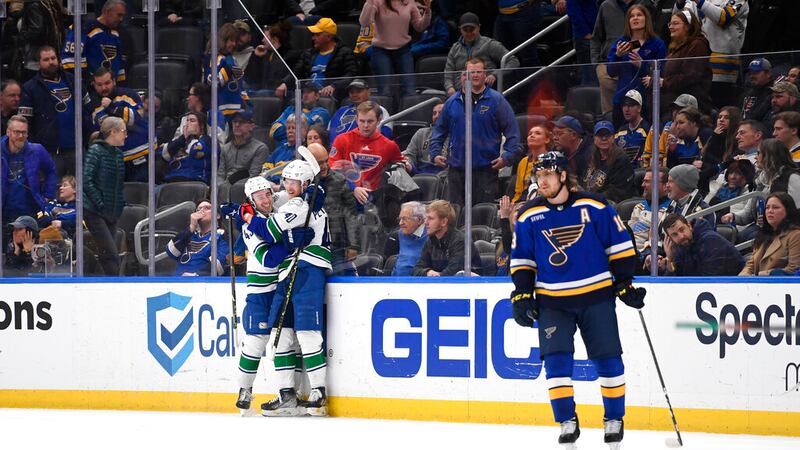 Published: Feb. 24, 2023 at 1:21 PM CST
ST. LOUIS (AP) — Elias Pettersson had 10 shots. He connected on the last one.
Pettersson scored 4:45 into overtime, and the Vancouver Canucks rallied for a 3-2 victory over the St. Louis Blues on Thursday night.
"I felt good, but the puck wouldn't find the way in until the last shot I guess so I'm happy with that," he said.
Pettersson picked up his 28th goal when he beat goalie Jordan Binnington with a wrist shot.
"I had some ice to work with so I tried to get as much speed as possible," Pettersson said. "I was thinking of going towards the inside but he covered that so I thought I'd try to shoot far and it went in."
Coach Rick Tocchet, who was hired Jan. 22 after Bruce Boudreau was let go, was impressed.
"That was a laser," Tocchet said. "He's got an all-world shot. He had a lot of chances in the game."
St. Louis led 2-0 before Miller scored his 20th goal 9:08 into the third, and Kuzmenko tied it on his 27th in the final minute.
"A lot of our best players not doing the job," St. Louis coach Craig Berube said. "I guess they don't care about the team, I don't know. Not sure why."
Rookie Tyler Tucker scored his first career goal for the Blues, and Alexey Toropchenko had a short-handed goal. Binnington made 38 saves.
"Obviously it's nice to be rewarded," Tucker said about scoring his first goal. "Two points would've been better."
Vancouver rookie Arturs Silovs had 20 stops in his third career NHL start.
Vancouver had a goal disallowed in the first period. Miller scored on a delayed penalty at 14:27, but it was waved off after St. Louis challenged for goaltender interference.
The Blues scored a short-handed goal when Toropchenko beat Silovs on a breakaway at 15:29. Pavel Buchnevich intercepted a pass and fed the streaking Toropechenko for his fifth of the season.
"That game was like, I don't know what to say, but it's like frustrating me. I don't know. It's really bad," Toropchenko said. "I am trying to do everything that I can every game, and I am just wishing and hoping everybody on the same page. But it's not good enough. I am so upset."
St. Louis went up 2-0 on a wrist shot by Tucker at 6:45 of the second. The Canucks challenged the play, arguing the goal was scored on a high stick by Ivan Barbashev, but the original call stood. Barbashev got his 100th career assist.
Miller scored a short-handed goal on a wrist shot. He has 11 points in his last 10 games.
"All these games are important. We've got guys fighting for jobs," Miller said. "We've got guys trying to prove something to the new coach. We didn't get frustrated. We've scored a lot of 6 on 5 goals. That says a lot about our team. We're never out of it."
ICE CHIPS
St. Louis forwards Brandon Saad (upper body) and Pavel Buchnevich (lower body) returned to the lineup. It was Saad's first game since Feb. 14. Buchnevich got hurt Saturday against Colorado. ... The Blues assigned forward Matthew Highmore to the minors to make room for Saad's return. ... C Aatu Raty, who was acquired from the Islanders in the Bo Horvat trade, made his Canucks debut.
Copyright 2023 KMOV. All rights reserved.