Hartman scores twice in Wild win; Blues' Binnington ejected
Ryan Hartman had two goals and an assist and the surging Minnesota Wild beat St. Louis 8-5 on Wednesday night in a game in which Blues goalie Jordan Binnington was ejected for throwing a punch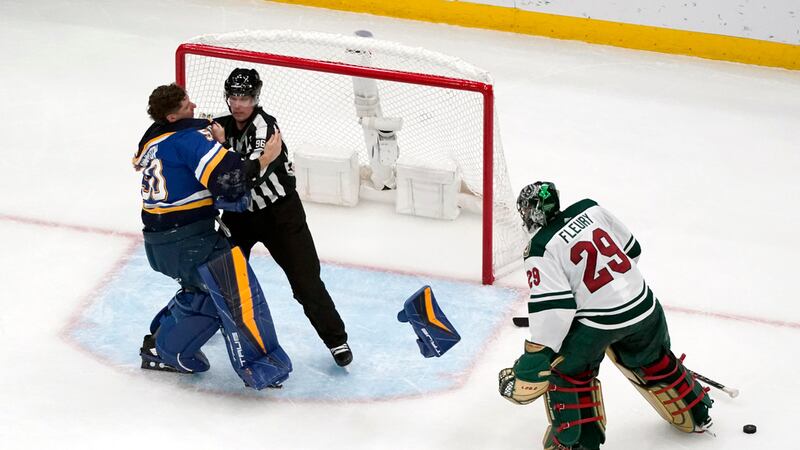 Published: Mar. 16, 2023 at 9:48 AM CDT
ST. LOUIS (AP) — Ryan Hartman had two goals and an assist and the surging Minnesota Wild beat St. Louis 8-5 on Wednesday night in a game in which Blues goalie Jordan Binnington was ejected for throwing a punch.
Binnington was whistled for a match penalty with 7:35 left in the second period. After giving up a goal — the Wild's fifth — to Hartman, Binnington left the crease and went after Hartman, swinging his blocker glove at the forward's face.
Minnesota goalie Marc-Andre Fleury skated the length of the ice to confront the unmasked Binnington, but the two were separated by officials and Binnington was sent off the ice.
"I mean, those blockers aren't soft," Hartman said. "We don't have much protection on our face. I'd say so (it was a cheap shot). It's nothing new from him. He's been doing stuff like this for a while."
Binnington said he has no grudge against Hartman.
"We know the type of player he is. I actually like his game, to be honest," Binnington said. "I've played against him since the jungle days for a while now. He plays the game hard and I respect it and it's no problem. It's kind of how it played out and it's all good. "
The match penalty call surprised Binnington.
"A little bit. I don't think I caught him too clean with my going after him," Binnington said. "Like I said, he's pretty good at diving. That's his game and that's totally fine. If they don't want to stay in there and compete until that end, that's fine, but that's it, that's the ref's decision and that's fine."
The Wild completed a four-game trip with the win and are the NHL's hottest team, going 11-0-3 since Feb. 15. The 14-game points streak is a franchise record.
The Blues are 3-8-2 over their last 13 games. St. Louis has had plenty of success against Minnesota, going 10-1-1 in its previous 12 regular-season games against the Wild, and taking a first-round playoff series last season 4-2. Fleury made 31 saves. He had no second thoughts about skating to Binnington.
"I'm not surprised. I've seen Jordan do a few things in his career," Fleury said. "That's why I went. I made it (decision) pretty quick."
Binnington thought the two would have made a lasting memory if they had squared off.
"I'm not surprised. I kind of think it was our moment, but I got nothing but respect for Fleury, too," Binnington said. "He's a legendary goalie. Coming down there, shows a lot about him."
Joel Eriksson Ek added a goal and two assists for the Wild. John Klingberg, Oskar Sundqvist, Mason Shaw, Hartman and Alex Goligoski scored for Minnesota in the second period. Three of the goals came in a span of 1:58. Ryan Reaves scored in the third.
"We had to stay out of the penalty box," Wild coach Dean Evasobn said "They scored two power-play goals in the first. We had to control that a bit. Once the second period, we gathered ourselves. We stayed out of the box and played a lot better hockey. We played more in their end and we got rewarded for it."
Pavel Buchnevich had his second career hat trick and Jakub Vrana added two goals for St. Louis, which held a 3-1 lead after the first period. Buchnevich has scored at least one point in 10 straight games.
NOTES: Blues coach Craig Berube coached his 500th NHL regular-season game. He became the sixth person to have played in 1,000 NHL games and been a head coach in 500. ... Ppro wrestling great Ric Flair was at the game and fired up the crowd before the puck dropped. He fist-bumped the Blues as they took to the ice. The crowd, who were given Flair bobbleheads, showered the champion with his signature "Woooo" chant. .. Wwild: LW Kirill Kaprizov (lower-body injury) missed his third consecutive game and is out for three to four weeks
UP NEXT Wild: Host Boston on Saturday.
Blues: At Washington on Friday night.
___
AP NHL: https://www.apnews.com/hub/NHL and https://www.twitter.com/AP_Sports