Cardinals option Hudson, Liberatore to minors—Has Woodford earned a roster spot?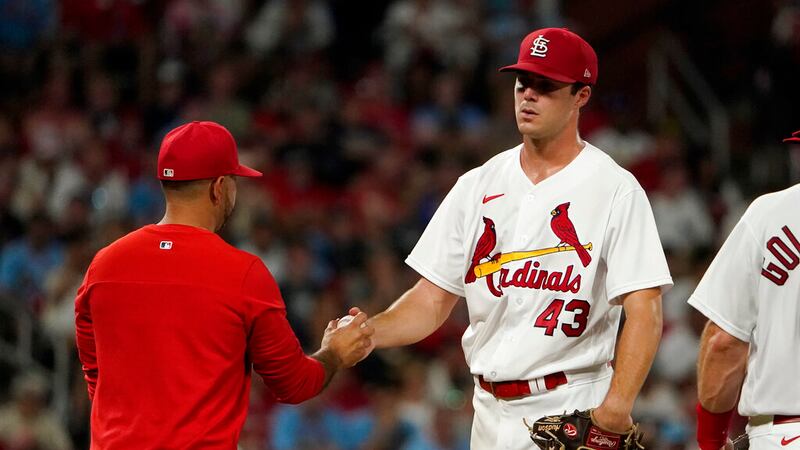 Published: Mar. 21, 2023 at 5:06 PM CDT
ST. LOUIS, Mo. (KMOV) - The Cardinals gave more indication on their leanings for roster decisions Tuesday when the team announced two notable pitchers had been optioned to the minors.
Dakota Hudson and Matthew Liberatore were sent out from big-league camp to Triple-A Memphis Tuesday, leaving the Major League roster at 31 players. 10 additional non-roster invitees are still involved in Major League camp in Jupiter, Florida.
The Cardinals will need to cut their active roster to 26 players before the beginning of the regular season, which kicks off Thursday, March 30 with Opening Day in St. Louis. Tuesday's moves to demote two starting pitchers could be a positive sign for Jake Woodford as he competes for a spot on the active roster this spring.
The right-hander has a 2.04 ERA with a team-leading 18 strikeouts in 17.2 innings pitched in Grapefruit League play. Most recently Woodford fired five scoreless innings against the Marlins on Monday, racking up seven strikeouts in the outing. Reports from Jupiter Monday suggest that Woodford has impressed team brass with his performance this spring and could therefore have the inside track on a roster spot.
On the other side of the ledger, Dakota Hudson's decline from the big-league starting rotation continues as he has not had the type of velocity on his pitches this spring that the Cardinals believe is required for him to thrive at the MLB level.
Hudson has posted a 6.23 ERA in Grapefruit League play this spring.
Copyright 2023 KMOV. All rights reserved.