Missouri Senate OKs limits on transgender treatments, sports
Missouri minors no longer could receive gender-affirming treatments under a state Senate-approved bill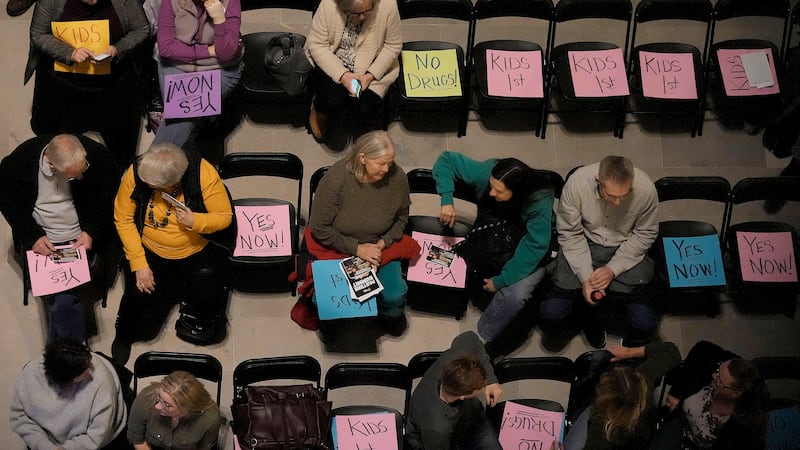 Published: Mar. 23, 2023 at 4:42 PM CDT
JEFFERSON CITY, Mo. (AP) — Missouri youths no longer could receive gender-affirming treatments under a bill passed Thursday by the state Senate.
The bill, which now heads to the GOP-led House for consideration, would prohibit doctors from providing puberty blockers, hormones and surgeries to minors for the next four years. Minors already receiving treatment and intersex youths would be exempt from the ban.
The bill also would ban the federal low-income health care program Medicaid from paying for gender-affirming treatments for adults and prohibit gender-affirming surgeries for Missouri prisoners and inmates.
"Children need love, compassion and counseling, not a doctor's prescription to cut off their breasts or genitals," Sen. Denny Hoskins said before he joined 23 other Republicans in voting for the measure. Eight Democrats voted against it.
Under clinical guidelines, children diagnosed with gender dysphoria and who receive counseling and guidance about transgender medical treatment are first offered medication that temporarily blocks puberty. After puberty blockers, kids can either go through puberty while still identifying as the opposite sex or begin hormone treatment to make their bodies more closely match their gender identity. Transgender surgeries are another option, though usually for older teens and young adults.
Democratic Sen. Greg Razer, the only openly gay senator in the state, called the Missouri bill an example of government overreach into private health care and warned colleagues that they will regret supporting it.
"The day will come, and it will come sooner rather than later, that you regret this vote," Razer said. "You will look back and realize it was the wrong vote and the wrong thing to do, just like so many of you regret the decisions you've made to discriminate against the LGBT community for decades."
The measure reflects a national push led by Republicans to restrict transgender health care, drag shows, bathroom access and how LGBTQ topics are discussed in schools.
Missouri senators also sent on Thursday the House legislation that would require transgender girls and women to compete on boys' and men's K-12 and collegiate sports teams. Schools that violate the rule would lose all state funding.
If the Missouri bill on transgender health care becomes law, doctors who perform a gender-affirming surgery or otherwise prescribe "cross-sex hormones or puberty-blocking drugs" to minors could have their medical licenses revoked and face potential lawsuits from their patients until patients reach age 36.
The Missouri bill banning certain health care treatments is scheduled to take effect Aug. 28 if passed.
A rule proposed by Republican Attorney General Andrew Bailey to require an 18-month waiting period for gender-affirming treatments for minors could act as a stopgap. Bailey has not yet officially filed the rule after announcing plans to do so Monday.
Razer warned that enacting the Missouri bill will drive transgender people and their families to leave the state.
"If someone is disappointed in Missouri because they can't harm kids here, we are better if they are gone," Republican Sen. Bill Eigel said in response.