Reparations for Black Californians could top $800 billion, according to estimate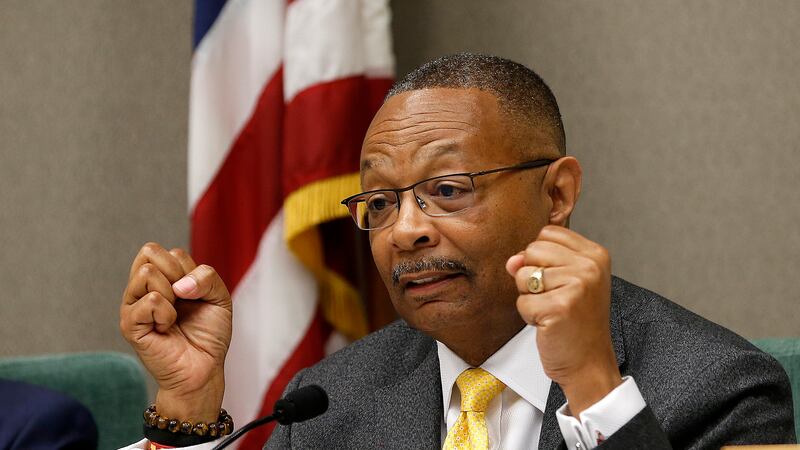 Published: Mar. 29, 2023 at 5:18 AM CDT
|
Updated: Mar. 29, 2023 at 6:15 PM CDT
SAN FRANCISCO (AP) — The leader of California's first-in-the-nation reparations task force on Wednesday said it won't take a stance on how much the state should compensate Black residents whom economists estimate may be owed more than $800 billion for decades of over-policing, disproportionate incarceration and housing discrimination.
The $800 billion is more than 2.5 times California's $300 billion annual budget and does not include a recommended $1 million per older Black resident for health disparities that have shortened their average life span. Nor does the figure count compensating people for property unjustly taken by the government or devaluing Black businesses, two other harms the task force says the state perpetuated.
"All forms of discrimination should be considered in reparations," Thomas Craemer, a public policy professor at the University of Connecticut, told the panel Wednesday. "The task force should feel free to go beyond our loss estimates, and determine what the right amount would be."
Black residents may not receive cash payments anytime soon, if ever, because the state Legislature and Gov. Gavin Newsom will ultimately decide whether any reparations are to be paid. The task force faces a July 1 deadline to recommend the forms of compensation to be awarded and who should receive it, along with other remedies to repair the harm.
But the panel's chair, Kamilah Moore, said Wednesday it's up to the state Legislature to ascribe a restitution amount based on the methodology economists recommended, and which the task force approved on Wednesday.
"The task force is pretty much done regarding the compensation component. Our task was to create a methodology for calculation for various forms of compensation that correspond with our findings," she said in an e-mail.
For those who support reparations, the staggering $800 billion estimate underscores the long-lasting harm Black Americans have endured, even in a state that never officially endorsed slavery.
Several people who gave public comment Wednesday spoke of the urgent need to pay Black Americans for all that was taken from them.
"My family came from the South because they were running for their lives, they were fearful of being lynched, just for voting," said Charlton Curry of Sacramento, California, who discusses reparations on his Big C Sports podcast.
"Cash payments are necessary. Money talks," he said, noting that white people benefited from free U.S. government land through the 1862 Homestead Act, and Japanese Americans incarcerated during World War II and Jewish Holocaust victims received reparations.
Critics pin their opposition partly on the fact that California was never a slave state and say current taxpayers should not be responsible for damage linked to events that germinated hundreds of years ago.
Bob Woodson, a prominent Black conservative, calls reparations impractical, controversial and counterproductive.
"No amount of money could ever 'make right' the evil of slavery, and it is insulting to suggest that it could," he said in an email to The Associated Press, adding that Black communities relied on faith and family to build thriving communities following slavery. "Some of these communities only began coming apart after we lost sight of these values, which also hold the key to these communities' restoration."
Financial redress is just one part of the package being considered. Other proposals include paying incarcerated inmates market value for their labor, establishing free wellness centers and planting more trees in Black communities, banning cash bail, and adopting a K-12 Black studies curriculum.
Reparations talks are stalled at the federal level, but the idea flourished in California as well as U.S. cities and counties following the death of George Floyd, a Black man, at the hands of Minneapolis police. Newsom signed legislation in 2020 creating the reparations task force.
An advisory committee in San Francisco has recommended $5 million payouts, as well as guaranteed income of at least $97,000 and personal debt forgiveness for qualifying individuals. Supervisors expressed general support, but stopped short of endorsing specific proposals. They'll take up the issue later this year.
U.S. Vice President Kamala Harris on Wednesday said from Ghana that she and President Joe Biden support a reparations study, but the president has so far sidestepped calls from advocates to create a federal commission.
The $800 billion estimate in California includes $246 billion to compensate eligible Black Californians whose neighborhoods were subjected to aggressive policing and prosecution in the "war on drugs" from 1970 to 2020. That would translate to nearly $125,000 for every person who qualifies, the consultants wrote.
The numbers are approximate, based on modeling and population estimates. The economists also included $569 billion to make up for the discriminatory practice of redlining in housing loans. That would amount to about $223,000 per eligible resident from 1933 to 1977. The $569 billion is considered a maximum and assumes all 2.5 million Californians who identify as Black would be eligible.
But they won't all be. People must meet residency and other requirements for monetary compensation. They also must be descendants of enslaved and freed Black people in the U.S. as of the 19th century, which leaves out Black immigrants.
The task force on Wednesday also endorsed methodologies for devaluation of black businesses and unjust property takings. Those methodologies have no numbers due to a lack of data.
——————
AP White House reporter Chris Megerian contributed from Accra, Ghana
——————
This story has been corrected to reflect that the task force is not required to recommend specific compensation amounts in its July 1 report to the Legislature. It is required to make recommendations on what form compensation should take and who should be eligible.
Copyright 2023 The Associated Press. All rights reserved.