Adam Wainwright performs the National Anthem on Opening Day at Busch Stadium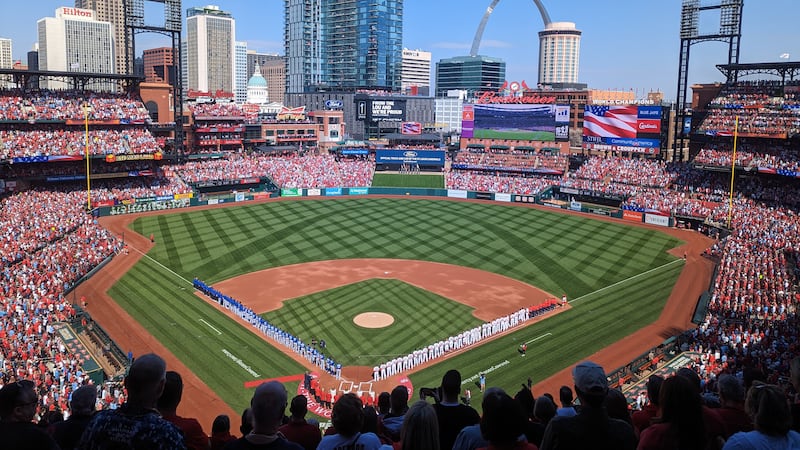 Published: Mar. 30, 2023 at 4:08 PM CDT
ST. LOUIS, Mo. (KMOV) - In what is expected to be his final season with the Cardinals and as a big-league pitcher, Adam Wainwright would have been an obvious choice to draw the start on the mound for Thursday's opening day game at Busch Stadium. Unfortunately, he suffered a groin injury during a workout at the World Baseball Classic that has landed him on the injured list to begin the year.
Although he didn't deliver any pitches in Thursday's game between the Cardinals and Blue Jays, Wainwright was on pitch in his delivery of the Star-Spangled Banner during the pre-game ceremonies at Busch Stadium.
In a move that aroused a roar from the sea of red at Busch, public address announcer John Ulett shared that "one of the most up-and-coming singers from right here in St. Louis" would be performing the anthem.
Ulett let the cat out of the bag when he continued the introduction by saying, "kicking off his final season as a player in St. Louis..."
The best reaction came from Cardinals starter Jordan Montgomery, whose jaw practically dropped onto the infield dirt as he watched Wainwright, standing right beside him, suddenly step out from the line of Cardinals down the first base line to take his place in the spotlight.
"Right before that, he looked over at me and he goes 'Who's singing the anthem?'" Wainwright later explained. "And I said 'Oh, those are two of my songwriting buddies, they're going to sing the anthem.'"
Montgomery then replied, 'Man, you should sing with them sometime.'
"And I was like, yeah, we'll think about it," Wainwright said. "We'll think about doing it… 30 seconds from now."
Video evidence also reveals an emphatic reaction from Jake Woodford as he and Montgomery commiserated over being hoodwinked by Wainwright.
"Woodford was standing next to me and Woody was trying to talk to me—and I was kind of getting in the zone," Wainwright said. "He must have been like, 'All right, I guess he's mad at me or something.'
"Afterwards he's like, 'It makes sense now!'"
Wainwright estimated that only a handful of people knew what was about to happen before he took the microphone. He described that, before he suffered the groin injury that prevented him from taking the ball on Opening Day, the Cardinals had planned to do a tribute to honor him before the game. The team wanted Wainwright to choose someone special to him to sing the anthem as he warmed up before what would have been his final home opener start in St. Louis.
An aspiring country artist, Wainwright had chosen his songwriting partners Gary Baker and Greg Barnhill to perform the anthem. But after Wainwright got hurt, Manager of Player Communications Melody Yount reached out to him to ask if he'd like to sing the anthem himself, with Baker and Barnhill accompanying.
Initially, Wainwright declined the offer.
"I said no," he shared in front of his locker Thursday night. "And she goes, 'Well, I'm going to give you a few minutes to think about it, but okay. We'll start going with Plan B.'
"I called her back 10 minutes later and I was like, all right, I'll do it."
Wainwright said that his goals "were to honor the country with a decent rendition⁠—and not mess the words up. And to sing at a decent tempo, which I didn't do."
Though he caught some flak from a couple of teammates for the deliberate pacing, Wainwright attributed that to hearing his voice on a slight delay over the loudspeakers, which caused him to unintentionally dawdle in some parts of the song. Ultimately, though, singing the national anthem in front of a packed Busch Stadium was yet another moment on the Americana bucket list after Wainwright notably had the opportunity to pitch for Team USA in the World Baseball Classic earlier this spring.
"I'm gonna have to get an American flag tattoo on me or something," Wainwright joked regarding his recent run of patriotic acts. "Minus the little injury I have—and it's not a serious one, so I'm not really worried about it—but minus that, it's been a pretty good start to my year."
Copyright 2023 KMOV. All rights reserved.