Gov Pritzker, Illinois legislative leaders announce agreement on state budget
Gov. JB Pritzker and fellow Democrats leading the state General Assembly say they've reached agreement on a budget for the Illinois fiscal year that begins July 1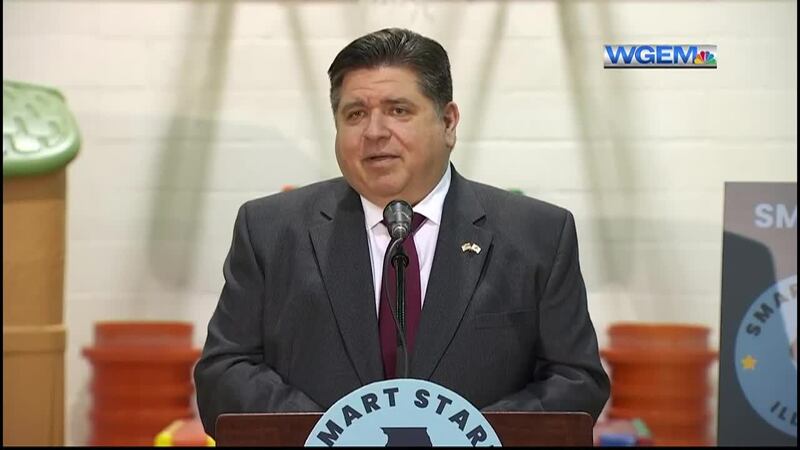 Published: May. 25, 2023 at 9:24 AM CDT
SPRINGFIELD, Ill. (AP) — Gov. JB Pritzker and fellow Democrats leading the state General Assembly announced Wednesday that they had reached an agreement on a budget for the Illinois fiscal year that begins July 1.
Pritzker, Senate President Don Harmon and House Speaker Emanuel "Chris" Welch did not disclose a dollar amount for the budget in a news release from the governor's office but the governor told reporters the budget is "mid-50-plus billion dollars." Pritzker's proposed budget plan from February totaled $49.6 billion in spending.
"From the beginning, I vowed to work with the General Assembly to bring fiscal sanity to Illinois while restoring a compassionate state government that invests in the things that build a stronger economy and future. I'm pleased to say that's exactly what this balanced budget does, for the fifth time in a row," Pritzker said.
"From violence prevention, higher education and K-12 funding, and filling teacher vacancies, to more workforce development, and enhanced behavioral health services, this budget makes historic investments that will benefit our state for years to come," he said.
The budget makes "transformative investments" in early childhood and higher education, public safety, workforce development and mental health services, the news release said.
"Today's agreement" Welch said, "proves once again that Democrats can produce a state budget that is both fiscally responsible and compassionate at the same time. We will pass a budget that is balanced, it'll make smart investments in the services people need, and it will be a reflection of the values we share as Illinoisans."
Harmon called it "a responsible balanced budget that recognizes our shared goals and commitment to making progress on key issues for the people of Illinois."
The budget will face adjustments as it makes its way through the House and the Senate.
There was no immediate reaction from Republicans to the budget agreement.