St. Louis native Tatum and Celtics thrive on 3s, beat Heat 110-97 in Game 5 to extend East finals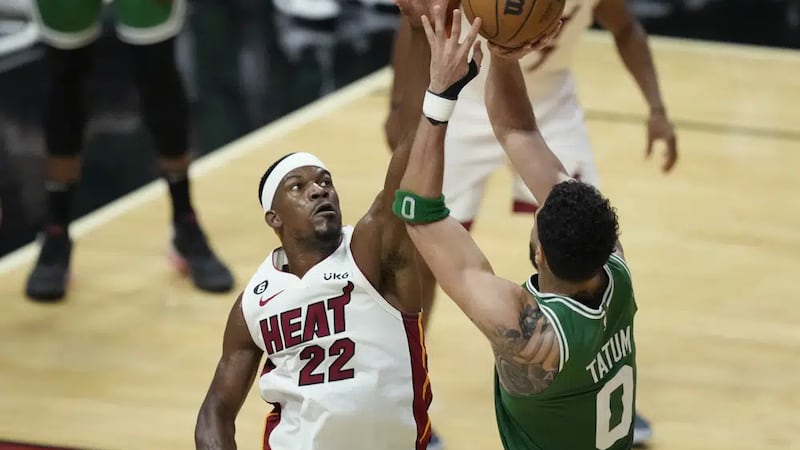 Published: May. 25, 2023 at 10:10 PM CDT
BOSTON (AP) - Derrick White had 24 points, including six 3-pointers, and the Boston Celtics dominated the Miami Heat 110-97 on Thursday night in Game 5 to extend the Eastern Conference finals.
Marcus Smart had 23 points and five steals. Jayson Tatum and Jaylen Brown finished with 21 points apiece as the Celtics claimed their second straight win and trimmed Miami's series lead to 3-2.
It keeps alive Boston's hopes of becoming the first team in NBA history to overcome a 3-0 deficit to win a series. Teams previously in that position are 0-150 all-time.
Game 6 is Saturday in Miami.
A day after the Florida Panthers punched the franchise's first ticket to the Stanley Cup Finals since 1996, for the second straight game the Heat were denied a spot in the NBA Finals.
Duncan Robinson led the Heat with 18 points. Bam Adebayo added 16 points and eight rebounds. Jimmy Butler had 14 points, five rebounds and five assists but sat out the final 9:47 of the game. Caleb Martin finished with 14 points.
It was Butler's lowest-scoring game of the playoffs. He had 16 points in Game 3, a blowout win by Miami.
Miami never led and had 16 turnovers.
Boston entered the day just 4-5 at TD Garden this postseason. But with a raucous home crowd behind them, the Celtics thrived on their energy.
They dove for loose balls, outfought Miami for rebounds and found each other for layups and dunks in transition as they built as much as 20 points in the first half.
The Heat cut into it, but Boston kept knocking down 3s and grew its edge as high as 96-72 in the fourth quarter.
Boston's fans reignited a "Beat the Heat!" chant that hadn't been prevalent since Game 1.
The Heat started Kyle Lowry at point guard after Gabe Vincent was ruled out with a sprained left ankle earlier in the day. It was Lowry's first start since Feb. 2.
Vincent, the Heat's third-leading scorer this postseason, got hurt late in Miami's Game 4 loss when he landed awkwardly while trying to save a loose ball near the Heat bench.
His presence was missed as Miami struggled early on the offensive end, swarmed by a Celtics' defense that forced the Heat into 10 first-half turnovers that led to 17 Boston points. Lowry played 31 minutes, scored five points and finished with four turnovers.
TIP-INS
Heat: Were outscored 13-0 in second-half points in the opening 24 minutes.
Celtics: Al Horford added six points and 11 rebounds. … The Celtics took a 61-44 edge into halftime. … Boston's first turnover of the game didn't come until the 8:16 mark of the second quarter.
FAST START
The Celtics got the fast start they had hoped for in front of their home crowd.
Smart stripped Adebayo on Miami's opening possession, igniting a fast break and layup on the other end by Tatum.
Then, with the game tied at 4, Tatum got free in the lane for a monstrous two-handed dunk. He hung on the rim afterward and continued his celebration when he landed, leading to a technical foul.
It didn't stop the Celtics' momentum, as their first-quarter lead grew as high as 23-7. Boston ended the period with a 35-20 lead, punctuated by a 3-pointer by White at the buzzer.
Tatum had 12 points in the opening 12 minutes, with the Celtics outscoring the Heat 21-6 from beyond the arc. Boston hit 7 of its 12 attempts.
VIP WATCH
Celtics Hall of Famer Paul Pierce, NCAA president Charlie Baker and New England Patriots Matt Slater and Devin McCourty were among several celebrities in the Garden.
___
AP NBA: https://apnews.com/hub/nba and https://twitter.com/AP_Sports
Copyright 2023 KMOV. All rights reserved.