Turning dreams into reality: Local athletes showcase skills at XFL Tryout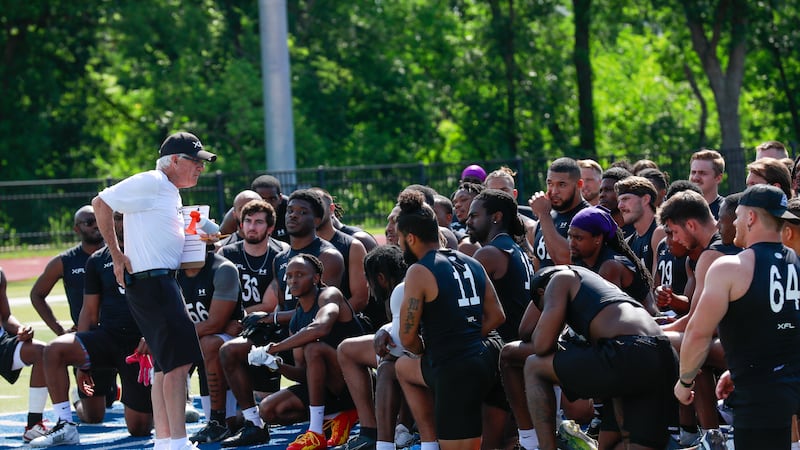 Published: Jul. 10, 2023 at 9:12 AM CDT
ST. LOUIS, Mo. (KMOV) - Local players had the opportunity to put their skills to the test at the XFL Showcase Friday at Missouri Baptist University.
The league is known for second chances. Some of these guys have been playing for a long time, and never had the opportunity to play at the next level. During the showcase, 300 players were able to show off their athleticism, grinding for an opportunity to attend the combine. News 4 spoke with several local athletes about their passion for the game and their dream of making it to the XFL.
Jordan Cole
"It means a lot, because actually the Battlehawks reached out to me and talked to me a little," St. Louis native Jordan Cole said. "It's a great opportunity for me it's always for me to come around football and be on the field."
Cole was a graduated from McCluer South Berkeley, and attended Northern Illinois, playing linebacker for the Huskies. In 2020, he broke his fibula, causing him to miss two seasons. He later transferred to Southeast Missouri State University where he finished out his college career.
Throughout the adversity he went through in college, Cole was one of the players that caught the attention of the scouts at the showcase, allegedly receiving an invite to the combine.
"That was a big thing, just calling us over just letting us know so we wouldn't have to worry about anything," Cole says.
Kidd Sutherlin
"I just want to let the kids know that no matter how big your dream is, don't ever give up. Keep going," said receiver Kidd Sutherlin.
Kidd Sutherlin, a receiver from Clayton High School, was participating in his first XFL showcase. He said he has passionately loved the game of football and looks to represent his high school in the showcase since he graduated. After attending several St. Louis Battlehawks games, Sutherlin said he was motivated by the incredible atmosphere he witnessed at the games.
"I felt like I was back at home," Sutherlin said. "Just taking in everything and the environment it was incredible."
Sutherlin said he was most looking forward to showing off his route running speed, quickness, and his hands. But the most important thing to this young receiver is to be himself throughout the process. "As long as I be myself, everything else will fall into place with my skills," he said.
Copyright 2023 KMOV. All rights reserved.