Chiefs win 19-8, extend win streak over Broncos to 16 games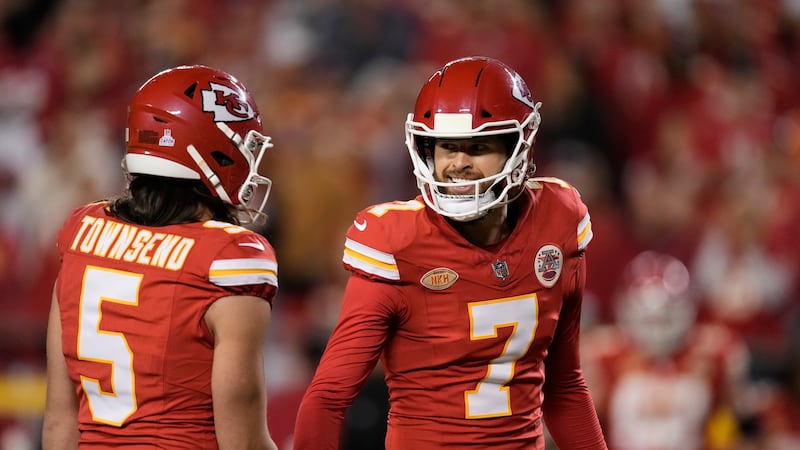 Published: Oct. 12, 2023 at 10:20 PM CDT
KANSAS CITY, Mo. (KCTV) - A dominant defensive effort helped the Kansas City Chiefs improve to 5-1 with a 19-8 victory over the Denver Broncos.
It was evident in the way they struggled against Denver on third down Thursday night. The way they kept getting bottled up in short-yardage situations. And in how they failed time after time to turn red-zone trips into touchdowns.
"Luckily for us," Mahomes said, "our defense is playing great."
Kicker Harrison Butker converted on all four of his field goal attempts, including makes from 52 and 60 yards, to spearhead the Chiefs offensive output.
Wide receiver Kadarius Toney scored the lone Chiefs touchdown of the night, securing a 3-yard pass for a score late in the second quarter. That touchdown gave the Chiefs a 10-0 lead, and came minutes before Butker knocked through a 60-yard field goal to give Kansas City a 13-0 advantage at the halftime break.
In the same quarter, Chiefs quarterback Patrick Mahomes surpassed Len Dawson for most completions in Chiefs' franchise history with his eighth reception of the night. Mahomes finished the night completing 30-of-40 passes for 306 yards, a touchdown and an interception.
Travis Kelce had nine catches for 124 yards for Kansas City with Taylor Swift again cheering him on from an Arrowhead Stadium suite.
Still, the Chiefs' inability to turn red-zone trips into touchdowns nearly cost them.
"Our defense was incredible tonight, as it has been," Chiefs coach Andy Reid said. "But we have to take care of business in the red zone. We had a lot of yards, positive yards, but you can't stall down there."
"I thought we did a lot of good things, just obviously red zone and some third downs we didn't execute at a high enough level," Mahomes said. "I still think there were a lot of good things we can take from it."
Butker's first three field goals helped them to a 16-0 lead, but Russell Wilson's touchdown pass to Courtland Sutton — ruled incomplete but overturned upon review — with about six minutes remaining kept the Broncos alive. And when Javonte Williams bulled into the end zone for the 2-point conversion, what had been a one-sided shutout was a one-possession game.
The Broncos' league-worst defense couldn't make a stop, though. Mahomes converted third-and-2 with a 28-yard pass to Rashee Rice, and that put Butker in position for a 52-yard field goal with 1:55 left that put the game away.
Kansas City forced three turnovers and a turnover on downs, with safety Justin Reid and linebacker Nick Bolton intercepting Wilson, and linebacker Willie Gay securing a fumble to close the game out late in the fourth quarter.
"We have guys that are starters on other teams that are trying to find a way on the football field, and when they get on the field, they're making plays," Mahomes said of the Kansas City defense. "And they're playing with confidence."
INJURIES:
Cornerback Trent McDuffie left the game in the second quarter with an ankle injury but returned in the second half.
Kelce also left the game briefly after re-aggravating his right ankle injury suffered in last week's win over the Minnesota Vikings.
Wide receiver Justin Watson left the game with a right elbow injury after coming down hard after a drop in the second half.
NEXT:
The Chiefs get a mini-bye before hosting the Los Angeles Chargers at 3:25 p.m. CT on Sunday, Oct. 22.
Copyright 2023 KCTV. All rights reserved.