Chiefs fans, political leaders prep for trip to Frankfurt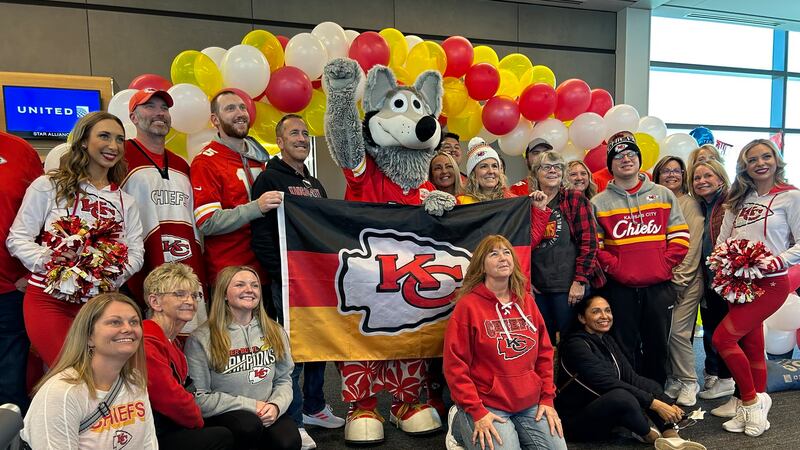 Published: Nov. 1, 2023 at 7:28 PM CDT
KANSAS CITY, Mo. (KCTV) - Many Chiefs fans and Kansas City leaders are already on their way to Frankfurt, Germany to watch the Chiefs take on the Miami Dolphins but this trip could mean more than football.
KC officials said they hope to grow the city's image throughout the world. One of those leaders headed overseas is Mayor Quinton Lucas.
All day, fans in Chiefs gear came through the airport and were sent off in style with the Chiefs' Rumble drum line and cheerleaders performing in one of KCI's terminals. They were also joined by Lucas who hopes this game draws more international attention to Kansas City.
The gameday atmosphere began before some fans got on the plane in terminal B as the KC Rumble pumped up some fans waiting to get on a flight to Chicago before a layover to Frankfurt.
Among them was Dessa Eskew, who was born in Germany. She said this game hits close to home for her.
"My parents were stationed over there during Desert Storm in the Army and my parents saw the Chiefs play the Rams over there in 1990," Eskew said. "So, when we found out the Chiefs were going to be there my mom really wanted to go back because that's where I was born."
To get ready, some fans needed to draw up their game plans last year to plan this trip. Besides the game, they hope to show Germany how special the culture of KC sports is.
"A lot of people were trying to get tickets, that was going to be one of the hardest things to do," Gustavo Murillo explained. "So, this was like months, and I remember going all the way back to March and February right after we won the Super Bowl we had to sign up and it was a big deal."
"They all know Patrick Mahomes, they know him everywhere," Mary Bunker, a longtime season ticket holder, added before going through TSA. "When we went to London there were all kinds of football jerseys and people loved it. It doesn't matter that it's not something they knew, they just enjoy it and it's made a big deal."
Lucas is making the trip to gain international attention for Kansas City.
"We'll be visiting Bayer the International Conglomerate, we'll be looking at things from international flights to more international business investments in Kansas City," Mayor Lucas told KCTV. "I am thrilled with the number of opportunities we have coming up this week and beyond that I think we can look at more money coming back to Missouri and Kansas."
Kickoff Sunday morning is scheduled for 8:30 a.m. and the game can be seen on NFL Network.
Copyright 2023 KCTV. All rights reserved.